Subterra Energy Resources - An oil and gas servicing company website for Subterra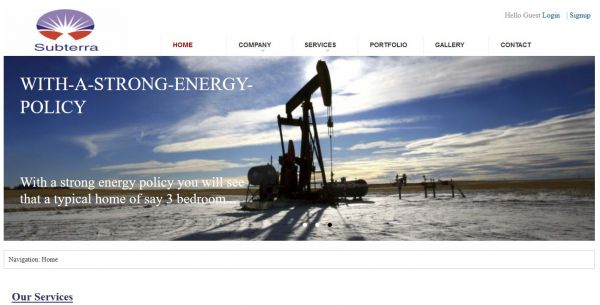 An urgent need for a website for an oil servicing firm was met with a cost effective solution.
Subterra Energy Resources (SER) is committed to providing the Energy sector, particularly the Oil and Gas sector, with value added solutions, tailored to each client's challenges in the most cost effective, safe and environmentally friendly manner while ensuring excellent corporate social responsibilities.

SER aims to provide value added solutions to the O&G sector, by utilizing the vast international experience of its technical and support staff, leveraging this on a strong local industry knowledge to produce world class services.

Service Focus Area
• Engineering, Procurement and Construction
• Drilling and Well intervention
• Oil and Gas Logistics
• Project Management and Consulting Services
The Outcome

A content management system based website was developed and deployed accordingly.